The white masses children see in the sky are called clouds. Experts can tell the weather based on the type of clouds that they see. Some clouds are big, while some are small.
 As they float in the air, the cloud's shape changes. Some even have a familiar shape that children can recognize. 
Here are ten cloud activities for children that will bring fun and excitement while learning.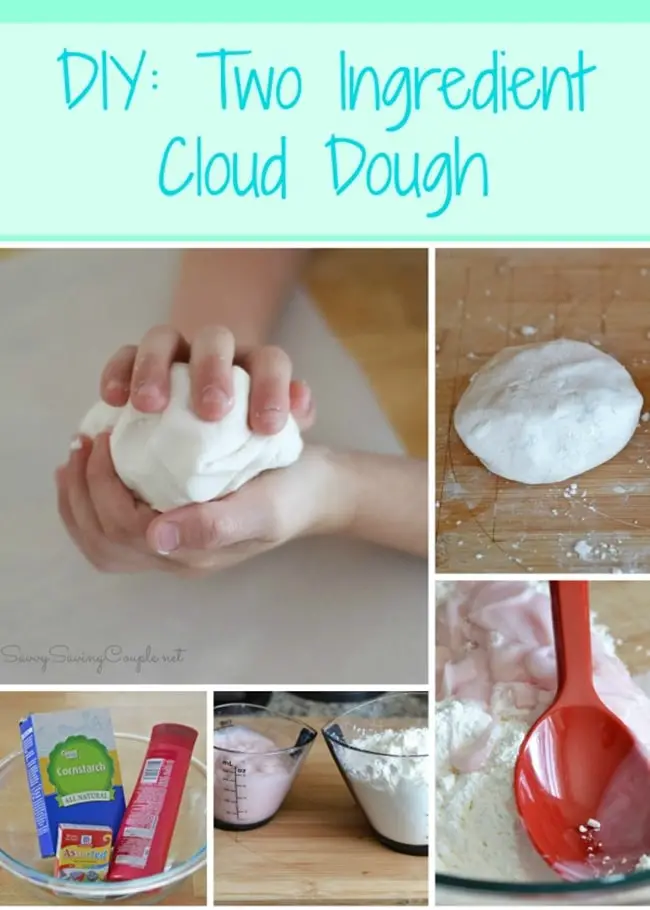 Easy to make and no-cook dough, this cloud dough can be ready in no time. Playing with playdough will help increase children's hand muscle strength and improve their coordination. 
The dough can be formed into different shapes and sizes, like a cloud. Let children mold them into different shapes to improve their shape-recognition skills. Younger children may make 2D shapes, while older kids can make 3D shapes. 
They can also form the dough into different letters and numbers to improve their letter and number recognition skills. Use an unsharpened pencil or a skewer without the pointy part to practice writing their names on the flattened dough. 
Make the dough by mixing one part of the hair conditioner and two parts of cornstarch in a large bowl. Once the mixture comes together, knead well until smooth and pliable. 
Add more or less cornstarch and conditioner to achieve the desired results. Too much conditioner will result in a sticky mixture, while too much cornstarch will make the dough dry and fall apart.
For this activity, you will need: 
One cup of hair conditioner 
Two cups of cornstarch 
Parchment paper 
Airtight container 
Large bowl 
For more information on this activity, go to TeachJunkie.com.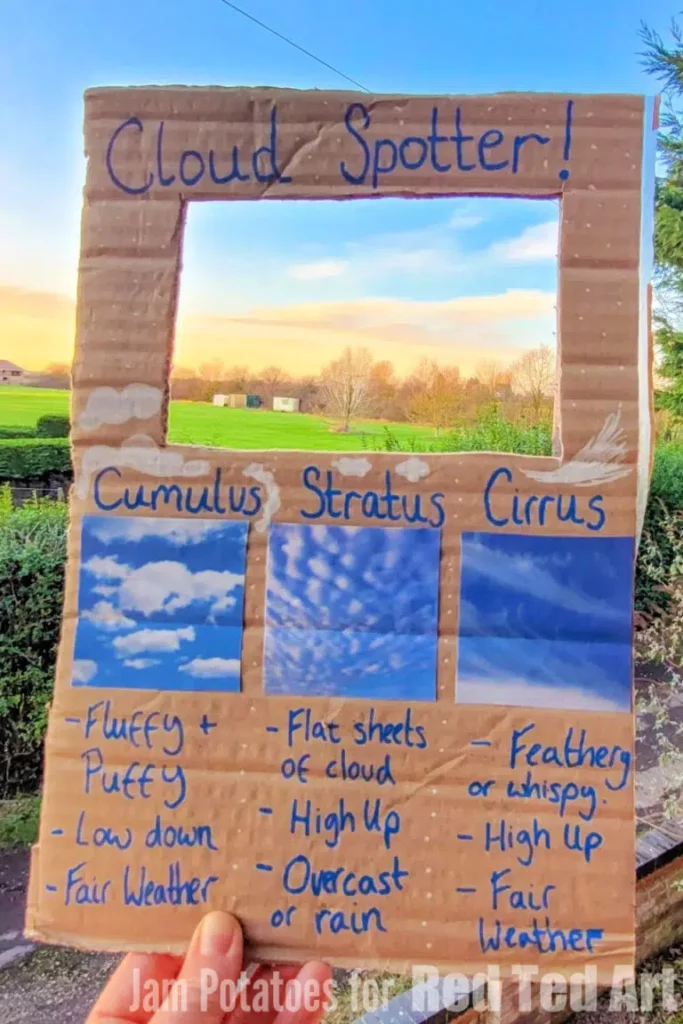 Cloud spotting is an activity that requires children to observe the clouds and identify them. There are different types of clouds, but the site suggests making it simple by using just the three basic types for younger children. 
This fantastic activity goes well with a science unit on weather. Children may increase their vocabulary by using the different names of clouds and the words used to describe them. 
Cloud spotting will improve their observation skills and attention to detail. Use a cloud identifier as children explore and discover the clouds. 
Use an A4 size of cardboard for this activity. Make a small window by cutting out a rectangle on the top part of the cardboard. Write the words "Cloud Spotter!" on the very top and the three types of clouds on the bottom of the window. 
Download, print, and cut out the pictures of clouds from the link provided on the site. Stick these on the cardboard. Write each of the cloud's descriptions as a guide for children. 
For this activity, you will need: 
For more information on this activity, go to RedTedArt.com.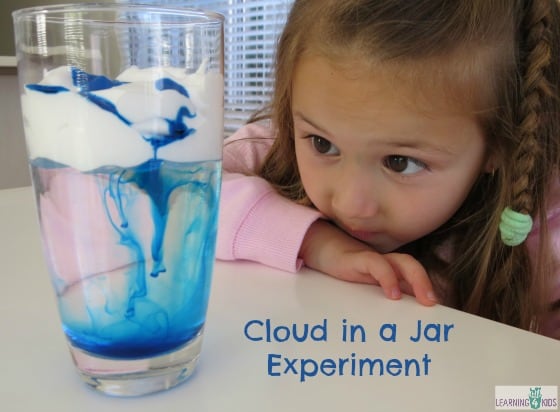 This simple experiment will let children understand why rain falls from the sky. Inspired by the book "Little Cloud" by Eric Carle, this activity requires readily available materials and will provide a visually stimulating experience for children. 
A science lesson on condensation will make this activity more meaningful for children. Children will improve their observation and critical thinking skills with this activity. 
Use the concept of cause and effect during the discussions to help them understand related events. Children will also improve their vocabulary as scientific words are used during the lesson. 
Use a clean and tall drinking glass for this activity. Fill half of the glass with water. Carefully squeeze the shaving cream on top of the water. Explain to the children that this is the cloud. 
Let children add several drops of food coloring to the shaving cream. Inform children that the food coloring is the rain. Let them observe how the color goes through the shaving cream to the bottom of the glass. 
For this activity, you will need: 
Measuring cup 
Clear drinking glass
Blue food coloring 
Dropper 
Shaving cream 
Water 
For more information on this activity, go to Learning4Kids.net.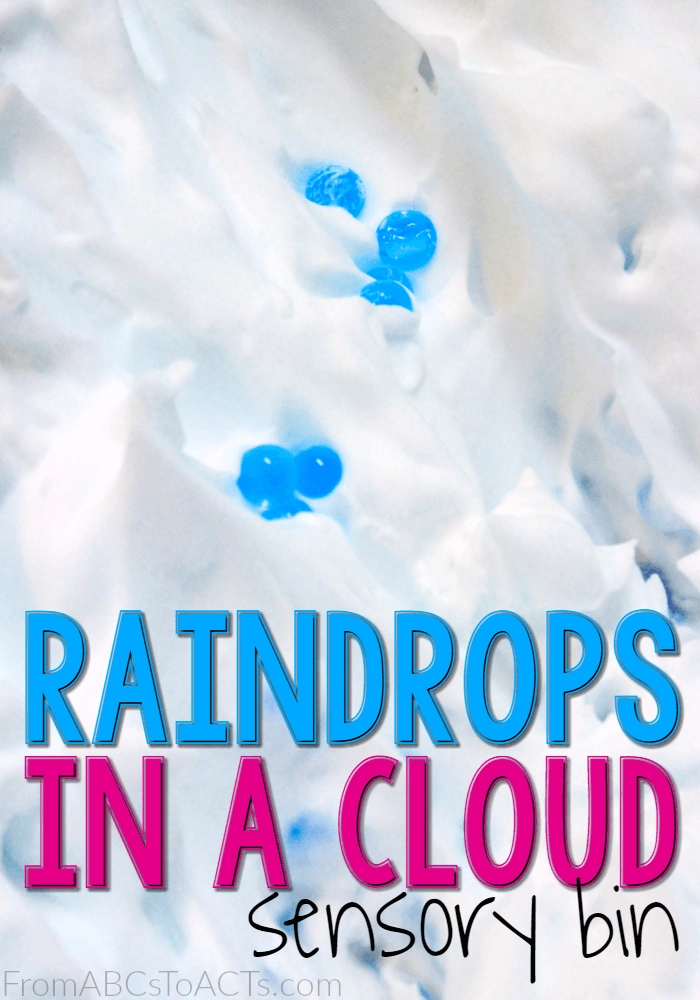 Raindrops in a cloud is a weather-themed sensory bin that provides a wonderful sensory experience for children. Let children explore the different textures through tactile play. 
Children can practice their counting skills with this activity. Children can count the water beads. Young children may practice counting up to ten, while older children may count bigger numbers. 
Let them collect the water beads and fill an empty container with these for children to work on their hand-eye coordination skills. 
They may use their hands or a spoon to transfer the shaving cream into a container. This helps improve their fine motor control and coordination. 
Children may also practice writing letters and numbers on the shaving cream. Decide the size of the bin that will be used. Bigger ones may need more than one can of shaving cream. 
Empty a can or several cans of shaving cream in the bin. Add the water beads and let the children play. 
The site recommends dying the water beads with food coloring if colored ones are unavailable. 
For this activity, you will need: 
Shaving cream 
Blue water beads 
Large bin 
For more information on this activity, go to FromABCsToACTs.com.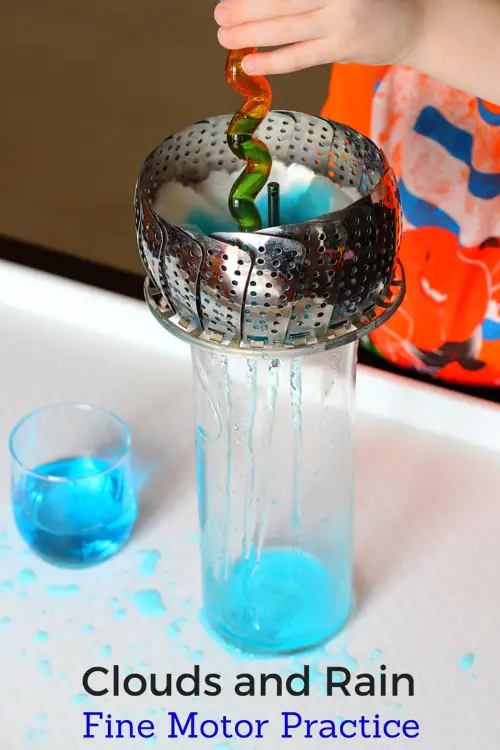 This experiment will allow children to understand the reason clouds bring rainfall. Working on this activity will allow children to improve their three-finger grasp as they use the dropper. 
Transferring liquid to another container will help improve their fine motor control and coordination. A science lesson focused on the weather is perfect with this activity. Use different food coloring to teach color recognition skills. 
Children may practice their counting skills by counting cotton balls placed in the steamer basket. They can also measure the liquid before and after the experiment to compare and use a non-standard tool for measuring, like a spoon. 
Start with pouring some water into a drinking glass. Add several drops of blue food color and mix. Inform children that this is the rain, and the cotton balls are the clouds. 
Next, place the steamer in a jar. Have the children fill it with cotton balls. Use the medicine dropper to transfer the blue water onto the cotton balls. As the water drips from the steamer, explain that rain falls when the clouds become heavy. 
For this activity, you will need: 
Cotton balls 
Steamer basket or strainer
Water 
Jar 
Drinking glass
Dropper 
Food coloring  
For more information on this activity, go to FunLearningForKids.com.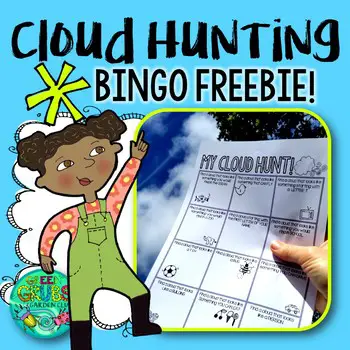 Children will surely enjoy a fun game while learning with this activity. This is a wonderful group activity that teaches cooperation and helps improve their observation skills. 
Use this game as a supplement to science lessons on the weather. This activity is versatile and can be played by a single person or a group. Children may discuss their findings to help improve their oral language skills. 
Use the cloud-themed writing sheets for children to practice expressing their ideas and improve their fine motor skills through their drawings. 
Let children observe the clouds in the morning or afternoon. The site suggests doing this outdoors and not during noontime when the sun is directly overhead the children. 
Explain the mechanics of the game to the class. Provide each group with the game sheets on a clipboard. This will make it easier for them to draw on paper. Children will race to complete a row of four to win. 
For this activity, you will need: 
Printed game sheets 
Pencil or marker 
Clipboard 
For more information on this activity, go to TeachersPayTeachers.com.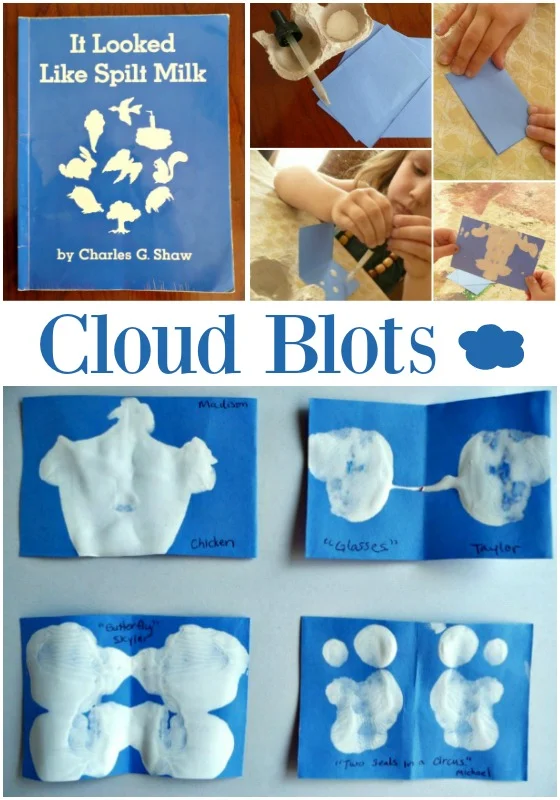 This activity is inspired by the book "It Looked Like Spilt Milk" by Charles G. Shaw. Teach children the concept of symmetry with this activity. Introduce the inkblot art technique to the children as they complete this task. 
Children will improve their fine motor skills by using a dropper when transferring paint on paper. This activity will also enhance children's imagination and creativity.  
Read the book before starting this activity to familiarize children with the images. Point out that in real life, these images may change when the clouds move. 
Next, cut out the paper into smaller rectangles. Provide each child with a piece of paper and let them fold it crosswise. For young children, model this step by making the corners of the paper meet.  
Next, open the paper and use the dropper to transfer some paint to one side of the paper. Fold and spread the paint by pressing. Open the paper and let the children think about what image is created. 
For this activity, you will need: 
It Looked Like Spilt Milk book
Blue construction paper 
Dropper 
Egg carton 
White paint 
For more information on this activity, go to ConfidenceMeetsParenting.com.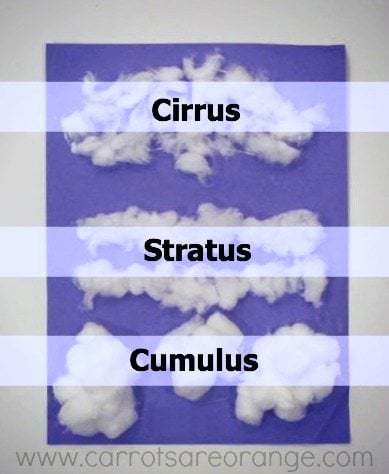 This is a simple activity that even young children can do with minimal assistance. Use the cotton balls to represent the different types of clouds visually. 
Children will become familiar with these clouds through a Science lesson. Use pictures and videos, if possible, to see their similarities and differences. Instead of plain-sized paper, use a cloud cut out in different sizes to teach children comparison. 
This activity will also help children understand some Math concepts. Let children identify big and small clouds with these or make them in several sizes for children to arrange them in order-big, bigger, biggest.
Let children practice their counting skills as they count the number of cotton balls in each cloud. They can compare which cloud has more cotton balls. 
Begin by showing children a picture of the cumulus cloud. Let them describe what it looks like. Ask them to create one by placing several cotton balls to make the cloud fluffy and puffy. Use glue to adhere these on paper. 
For this activity, you will need: 
Blue paper 
Cotton balls 
Glue 
For more information on this activity, go to CarrotsAreOrange.com.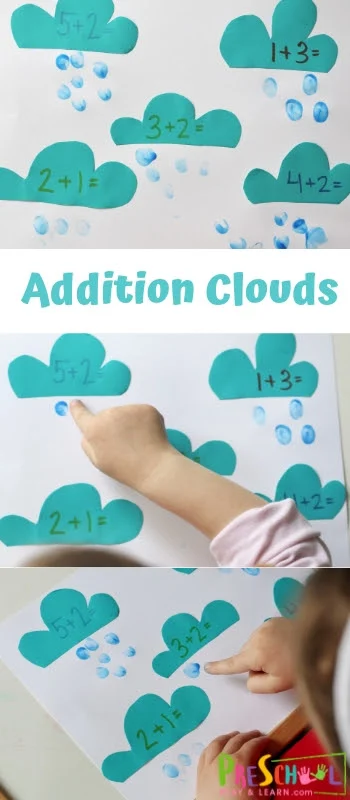 Cloud cutouts can be used to teach basic addition concepts. This Math activity is a terrific supplement for the weather unit. Children will improve their fine motor skills by cutting the paper into cloud shapes. 
Using finger paint to add raindrops provides a sensory experience while helping them work on their fine motor control and coordination.
For children who may not like the texture of the paint, use the end of an unsharpened pencil to stamp on paper. Children may also use markers to draw the raindrops. 
Start by cutting out the light blue cardstock into cloud shapes. For younger children, outline the shape on the paper. This will be a guide for the children. 
Next, stick the clouds on white cardstock. Ensure they are evenly spaced. Place about four to five on each paper. Use the marker to write the number equation on each of the clouds. 
Let children answer by dipping their fingers in the paint and making the correct number of raindrops. 
For this activity, you will need: 
Cardstock 
Scissors 
Blue fingerpaint 
Glue 
Marker 
For more information on this activity, go to PreschoolPlayAndLearn.com.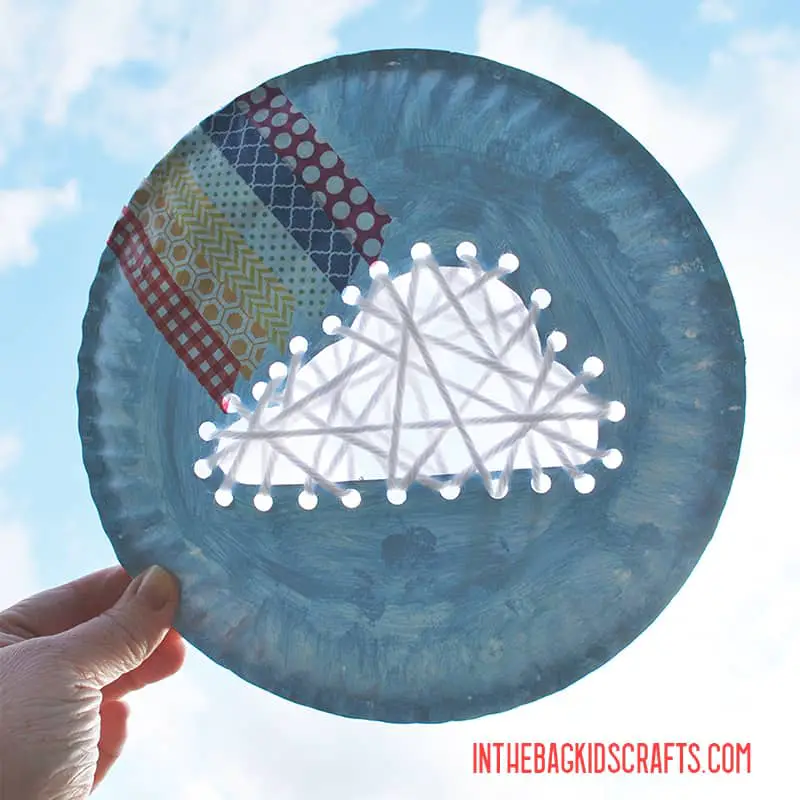 Turn this cloud craft into an activity that children can work on as they practice their weaving skills. Threading the yarn into the holes will help develop the children's eye-hand coordination skills. 
Cutting the washi tape and punching holes will help strengthen the children's hand muscles and improve their fine motor skills. Use different kinds of washi tape corresponding to the rainbow's colors. 
Use this craft to discuss scientific facts about clouds, rain, and rainbows and their connection. 
Download and print the cloud template from the site. Cut this out and trace it on the paper plate. Cut out shape in the middle leaving the plate intact. Use the puncher to make holes in the edge of the cloud. 
Next, cut a long piece of yarn. Wrap the ends with sticky tape to make it easier to insert and pull. Insert it in the holes in any direction until all of them have been threaded. Secure the yarn by using sticky tape. 
For this activity, you will need: 
Printed cloud template 
Paper plate 
Paint 
Scissors 
Hole puncher
Yarn 
Washi tape 
Sticky tape 
Pompom
Pencil 
For more information on this activity, go to InTheBagKidsCrafts.com.
Conclusion 
Clouds are a fun topic that children will love to explore and learn. Consider using these activities to help children gain more knowledge about the topic while having fun. Working on these activities will help children improve their different skills. 
Allow children to understand better the things they see around them through lessons and by explaining scientific facts. 
Thank you for reading! Visit our site to learn other preschool activities for different themes!
People Also Ask
It is impossible not to see the clouds when one looks at the sky. Clouds are the white formation that can be seen in any weather. Some are fluffy, while others are wispy. Some tell of sunny weather, while others warn of incoming rainfall. 
Understanding the clouds will help children prepare for unfavorable weather conditions. When clouds turn gray, children will learn to bring their umbrellas as a precaution.
What Is a Cloud for Preschoolers?
Clouds are tiny droplets of water that float in the sky. They come in different types and can change their shapes as they move. Their color changes from white to gray once it becomes heavy. 

When this happens, rainfall will happen. The clouds are a good indicator of weather. People can predict the type of weather by looking at the clouds.
How Do You Teach Clouds to Preschoolers?
Clouds are not concrete objects that children can touch and explore. However, there are many ways for children to help understand this concept. Use videos and pictures showing the different clouds and how they affect the weather. 

Encourage children to participate in experiments that explain why clouds bring rain at certain times. Allow children to observe outdoors and see what clouds look like and how they move.
Other science activities for your little ones: