Fall is the best time to explore the beauty of nature around you. You step outside and witness leaves changing colors to red, orange, and yellow. It creates a colorful and vibrant atmosphere, making you feel refreshed.
Thus, it is ideal for performing various leaf activities with kindergartners in the fall season. In fact, it is best to introduce various interactive fall activities to welcome the fall season into your classroom. 
This article highlights some interesting fall activities for kindergarten that will awaken the children's artsy side. The comprehensive guide will present you with engaging fall activities that assist in developing fine motor skills and allow the kids to acquire new skills.
So, let's begin exploring!
Great Fall Activities For Kindergarten
There are so many amazing fall activities that you can perform with kids. We have compiled a list of some of the best ones and provided their in-depth description. This will help you gain a clear understanding of how to execute the fall activities successfully with your kids.
Leaf rubbing is an incredibly interesting activity that you may consider this fall season. All three-to-five-year-olds will love creating leaf rubbing art. Let your children go outside and pick leaves for performing this interesting leaf rubbing activity. 
Begin by placing the leaves under a white piece of paper and rub the white crayon over it. As the white crayon is rubbed on the paper, it will have a print of the leaf that will be revealed once the child paints over it with different watercolors.
The children will get to create leaf rubbing art using the beautiful leaves. You would require a white piece of paper, white crayon, and watercolors. Make sure that you have all these items ready as you perform the activity.
As the leaves are revealed, you can discuss the different parts. You can talk about the function of the veins that assist the leaf in getting water and minerals to keep it blooming, and so on.
Similarly, there are various other leaf activities that you may consider doing with the kids. You can find them on TeachingMama.org.
What Supplies Are Needed For These Activities?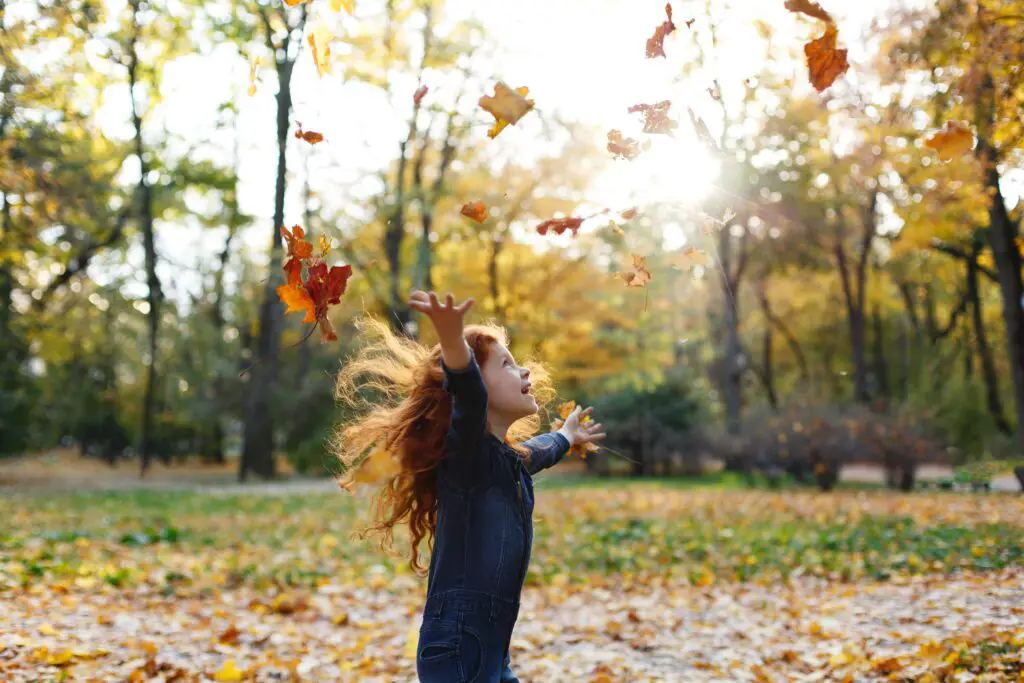 Most of the activities on our list are simple and require materials that are found easily in local stores. Some of the materials can be found at your home as well, making it convenient for you to execute the activities. 
Materials such as chart paper, scissors, glue sticks, paints, crayons, and plastic bags are usually available at your home. If not, then you can easily go to the nearest store and purchase these supplies for various activities. The best part is that most of our activities can be performed using these materials only. So, you do not have to spend time exploring different places for gathering supplies.
However, you might have to purchase materials like fabric leaves, clips, or sensory bins. You may use real leaves if you find difficulty in finding fabric leaves. Fabric leaves are long-lasting and are preferred in some activities. 
Conclusion 
To conclude, these fall activities for kindergartners are a great way of developing sensory, math, creativity, literacy, and other similar skills. Hopefully, the fall activities on our list will make learning fun and exciting for the kids. These engaging activities will keep the kids busy and help them understand their surroundings. So, let the children explore and make the most of this fall season!