Kindergarteners are full of imagination and creativity. It's your job as their teacher to provide them with fun little activities that will help develop their fine motor skills. 
We have come up with a few suggestions of our own that incorporate sensory and analytical skills as well. In many of these activities, you can even join in the fun along with them. 
So, let's hop right in!
Great Fine Motor Activities For Kindergarten
All these activities are great for fine motor development, which is essential for toddlers and children in their early childhood years. In order to learn how to draw and write in the years to come, they first need to learn the proper grip and holding technique of tools. 
It's also necessary for independence so children can learn to button their own clothes or tie their own shoes. Some excellent fine motor activities include: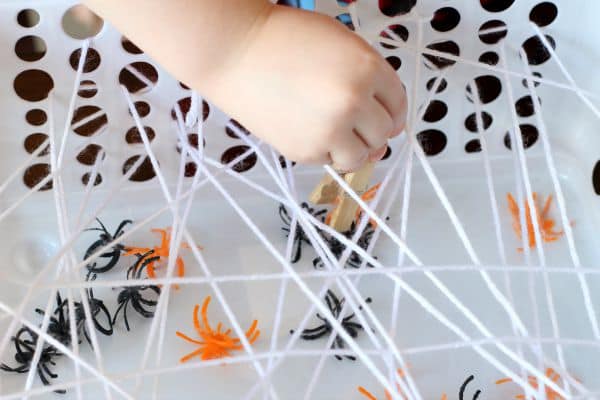 This is one of the all-time-favorite activities among children.
This spider web fine motor activity incorporates three basic tools: a basket, some yarn, and a few spider rings. Take the basket and wrap the yarn around it to form a web-like structure.
Finally, add the spider rings to the bottom, and voila! Just hand over the children some tweezers or cloth pins so they can take the spiders out of the web. 
This activity can range from simple to complex, depending upon how much yarn you weave around the basket. So, you can control its difficulty level depending on the ability of your students. 
It's a game suitable for children of a number of different ages, from kindergartners to six-year-olds, so the versatility makes this activity quite attractive among teachers. 
Furthermore, it's a great sensory activity for students to encourage the development of motor skills and induce problem-solving.
For more information on this activity, be sure to check FunLearningForKids.com.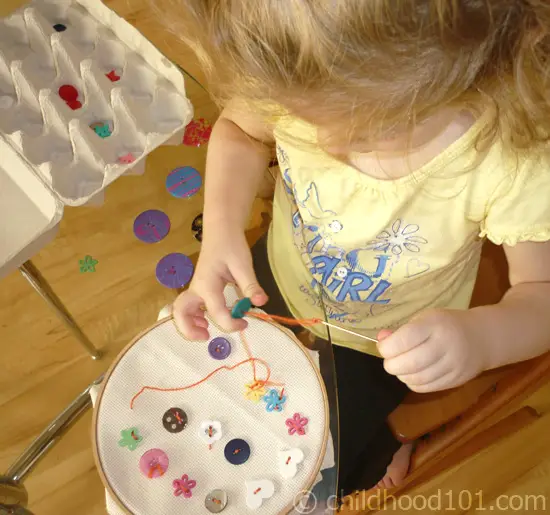 Grab some buttons, burlap, lace, thick string, and a child's needle and assemble them all in a small bin.
Now, distribute the bins among students and let them free play! You will need to help the students stripe the thread through the needle and show them how to prevent the thread from sliding out of the needle. 
Also, make sure that the buttons have openings that are big enough for the children's needle to easily slide through them. Burlap is a good fabric to use for this activity as the holes are visible, so students can easily pass the needle through, which wouldn't be possible with regular fabric. 
This activity is ideal for preschoolers who are three to five years old and can help invigorate creativity as well as the growth of sensory and cognitive skills.
It can further help students complete more complex learning tasks as time goes by and even promote social interaction as children help each other through the activity.
More details on this activity are available at childhood101.com.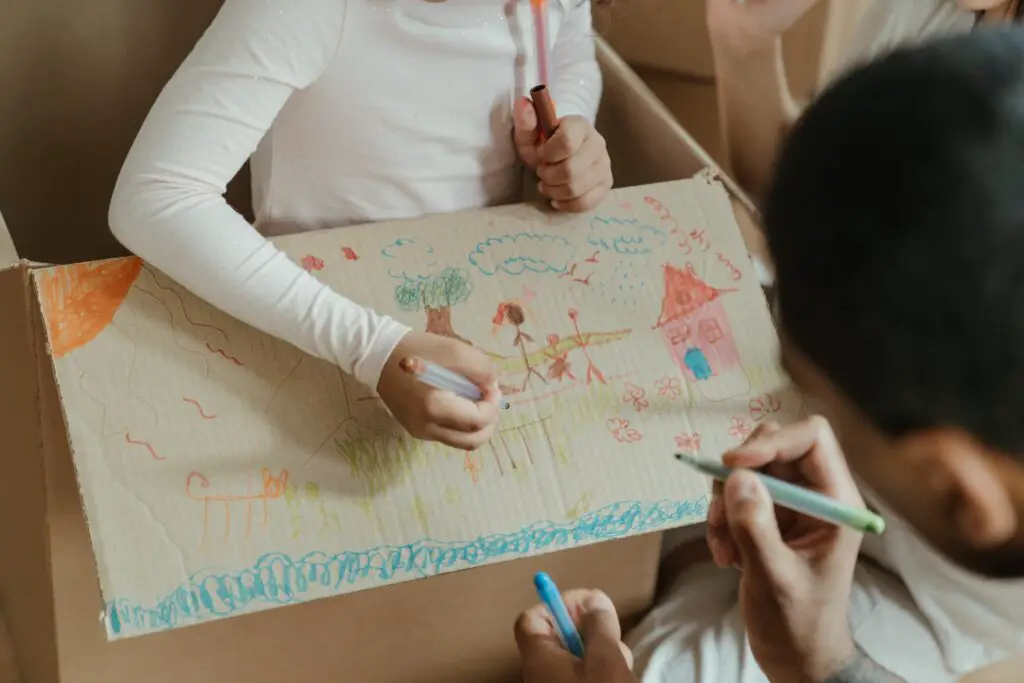 Painting is a great activity for kids, which aids in developing their hand-eye coordination. Using small tools such as brushes and fingers can help build fine motor skills along with providing an in-depth sensory experience. 
Though this activity is quite common in most preschool art classes, teachers can mix it up by swapping brushes for any other tool. This may include Q-tips, droppers, forks, small pieces of fabric, paper, or even leaves, etc. 
If you want to add more fun, you can also get your students involved in tissue paper art. This will let the kids tear and pinch the tissue paper, making it an incredible process-based activity. 
Art class extravaganza is great for kindergartners and preschoolers. The best part is they would get an opportunity to express themselves in the most creative ways possible. It will let their imaginations go wild.
If you want more information about this fine motor activity, visit FantasticFunAndLearning.com.
What Supplies Are Needed For These Activities?
Our list of fine motor activities is geared towards children from ages two to five. For such an age group, you need to make sure the activities you are providing are simple, interesting, and safe. Some basic supplies you'll be needing to provide these activities to the students are: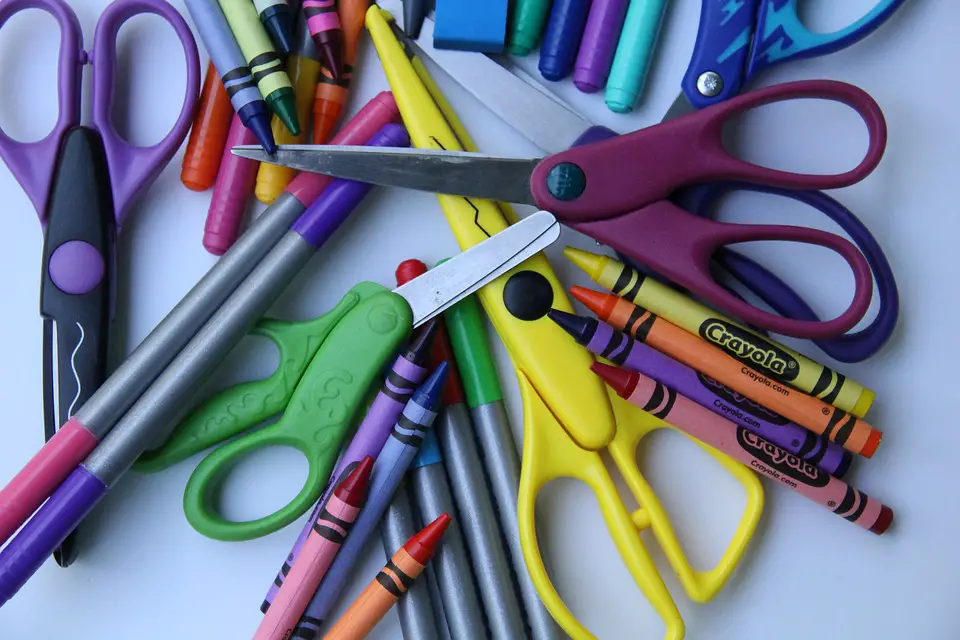 1. Paper
2. Clothespin
3. Bowls and boxes
4. Yarn and Fabric
5. Painting supplies
6. Pen and Chalk
7. String
Conclusion
We've tried to cover many of the common and uncommon activities you can easily include in your classrooms or homes to enhance kids' motor activities. You can even tailor and tinker all these to your ideas and preferences. 
More importantly, the activities are not only useful for developing fine motor skills but are incredibly engaging and fun for the kids. Most of the supplies required would be available in most arts and crafts stores. Be sure to check back with us for more interesting and fun ideas.
People Also Ask
Last but not least, be sure to check out the following simple questions and our detailed answers if you want to know more about fine motor activities for kindergarten.
What Are Fine Motor Skills?
Fine motor skills are the coordination and movement of small muscles of the hand and fingers working in synchronization with the eyes. It's the ability of children to use their muscles in their wrists, hands, and fingers for movement. Children need these skills for small tasks like holding a pencil, wrong, cutting, buttoning up their coat, playing with legos, etc.
Why Are Fine Motor Skills Important?
Fine motor skills are important for kids because they help them in muscle coordination and hence, the control of their hands, wrists, and fingers. These are necessary because they help children perform day-to-day activities, including feeding themselves, writing, cutting, drawing, grasping things, buttoning or zipping their clothes, etc.
How to Improve Fine Motor Skills
Fine motor skills can be improved by making children perform specific activities targeting those skills in their homes and classrooms. These can include tasks as simple as transferring water to an ice cube tray to complex ones like threading beads into strings.