Kids look forward to festivals like Halloween and Christmas as they are excited about candy and gifts. 
What if you use this opportunity to come up with some Halloween activities that can teach your kids something useful?
To help you gather some cool, fun activities to do on Halloween with your kids, we have come up with an incredible list.
Keep reading to see which ones suit your taste and class atmosphere!
Great Halloween Activities for Kindergarten
Now that all is said and done, the only thing left to do is to delve right into some fun things you can do on Halloween with your kids during class time. Let's get going!
1. Playdough
Playdough is fun, whether you play with it on Halloween or any other day. You could especially pick Halloween colors like orange, red, yellow, and maybe even black to keep the activity fun and interesting.
Each kid gets their playdough box, which they then use to spell out letters/alphabets and numbers. You can even use printed tracing mats with letters or numbers on them and ask your kids to shape them out exactly using play dough.
You can even ask kids to trace using small objects, erasers, beads, or even markers. For a simple, fun time, you could just let them play around with it without any rules. The possibilities are endless.
This cool idea was found on PocketOfPreschool.com. You may want to check the site out for further Halloween activities for your kindergarteners.
2. Mummy
Creating a masking tape mummy sure sounds like fun! You could print out mummy templates or ask your kids to draw out their mummy shapes on a card.
Once the shape is ready, it can be cut out either by your students if they are old enough, or you could do it for them. There are two options for cutting them out too.
You could either ask the kids to decorate inside the outline of the mummy and then cut it out or you could cut the figurines out before they get all crafty.
Hand out a roll of masking tape to each student or ask them to share it in groups. You could also give out stickers or other crafty things, so they can each make their mummy even more unique.
Ask them to color in using crayons or pencils. They could even spell out their names on it or write a short message!
We found this and other super fun ideas on NoTimeForFlashcards.com. Make sure you visit them too!
3. Halloween Slime
Making slime in class is a great idea. The completed slime will not act as a sensory toy for your kids, but you will also be able to show them what a chemical reaction is.
You can then use this further to teach them a bit of science and how some things can be created by combining some other chemicals.
Moreover, you only require PVA glue and a slime activator such as dishwashing liquid or borax to activate the slime. You can customize the slime using beads, food color, dye, and even scents.
Each kid could make his/her own, create a batch in groups, or a large batch could be made for the entire class in one go.
To give it a spooky theme, you could add spider figurines or orange color to your slime.
The class could even be divided into groups, and the best slime makes one group a winner! They could then receive some candy as a gift for their efforts!
We found this cool idea on LittleBinsForLittleHands.com. Check it out if you are interested in doing science experiments with your kids!
4. Pumpkin Volcano
This is yet another activity that involves a science experiment. Creating a fake volcano inside a hollowed-out pumpkin will surely amuse your kids.
You could then, later on, teach them about the reaction that takes place when vinegar and baking soda react.
First and foremost, what you will require is a large, orange pumpkin. You could hollow this out beforehand or ask your students to help you with it.
You can also carve the pumpkin out and place it in a large tray to prevent a mess in the classroom.
If you've carved your pumpkin, you will need to place another container inside it. Or, you could directly fill it up with colored water, a few drops of dishwashing soap, and a few spoons of baking soda.
Once set, all you need to do is add a quarter cup of vinegar and let your pumpkin volcano explode!
If you're interested in learning more about this activity, head over to littlebinsforlittlehands.com
5. Trick or Treat Bags
A very sensible and on-point craft idea to do in the classroom is designing trick or treat bags. You can purchase plain tote bags for the entire class along with some craft supplies, or you could buy a brown paper roll along with glue.
Dividing the brown roll into large sections and then asking students to follow steps to create a paper handbag is not a bad idea, either.
You could also use felt, foam, or cloth pieces to design these bags.
Furthermore, you could ask kids to bring their items to decorate or simply use glitter, artificial flowers, stickers, or other similar items to decorate the bags.
If the kids want, they can also spell out their names on the bags or write down a short, spooky message.
Make sure you hand them out some candy as their teacher, so the first one to fill up their bags is you!
For this and other spooky ideas, do give HelloWonderful.co a visit!
6. Teabag Ghosts
Making tea bag ghosts will not only enable you to surprise your kindergarten students, but you will also attain the opportunity to explain convection and air pressure to them in detail.
This craft, too, is almost a science experiment. For this experiment, all you need is a few empty tea bags, but it's better if you get ones whose material is slightly thicker as you would not want them to burn down to ash before they lift off.
You can empty the tea bags in class or do so beforehand. Make sure you collect the tea to use it later. Ask the students to draw a ghost face onto the bag with a marker.
Next, simply light up the cut-open tops on fire using a lighter and watch the tiny ghosts launch off.
It is super fun, entertaining, and eye-opening. Make sure you explain the phenomenon and the reason behind their launch to your students later on.
If you are big on experiments, just like this one, don't forget to check out PlaydoughToPlato.com.
Also, make sure you keep the lighter in your own hands and do not let kids play with it as this can be dangerous!
7. Fingerprints and Footprints
Kids love painting, and they enjoy it even more if it gets messier. Thumb printing, fingerprinting, and footprinting are something all kids can get creative with. All you need for this activity is some paper and paint.
Make sure you have large trays available at hand that kids can use for dipping their hands and feet.
Allow each child to show his/her creativity on paper using either their hands or feet!
However, make sure the paint is non-toxic and that the kids will not permanently stain their hands and feet.
It is also a good idea to do this craft under adult supervision and use aprons to prevent the kids from ruining their clothes.
Once complete, each child can use markers, crayons, or pencils to further enhance their creativity.
They can then decide if they want to take these signs/pieces of art home or have them displayed on the soft board in class.
It is also a super great idea to get them blank cards that they can decorate similarly and give out to their teachers, fellow students, or family members! If you're interested in knowing more about this activity, check out TheSpruceCrafts.com!
8. Cut and Paste
It is a great idea to teach kindergarten kids how to use scissors if they are old enough, and also let them understand hand control by asking them to use glue appropriately.
Cut and paste worksheets and printables can be found on Education.com.
These worksheets include activities like pasting Halloween figures together, labeling, number matching, and other templates that can be used to do a variety of activities.
You can also look for other copy-pasting activities that teach kids something related to letters, words, and numbers.
Make sure you warn kids about wasting glue beforehand and also supervise them whilst they use scissors.
Always keep scissors that are round-tip and not pointed. Also, it is a great idea to assign glue bottles to each kid individually or assign them to groups if you have larger bottles or sticks.
This will prevent wastage and will also teach kids responsible behavior.
9. Puppets
Puppets can be made using a wide range of materials and are always super fun to make. And, the best part is that each kid can make their own very unique puppet which they can take home later on.
This will also act as a nice touch to their Halloween outfits, and they might just be able to hack some extra candy.
For creating puppets, you can either ask each kid to bring an old sock from home or simply use felt, foam, rubber, paper, card, or cloth to make them.
For decoration too, the kids can bring with them whatever they like, or you could provide them with some beads, stickers, and googly eyes.
It is best if the entire class uses a similar material to create their puppets since you can show them how you are supposed to make them in the beginning.
Different materials will need to be manipulated differently to create a puppet, so you should keep this in mind.
At the end of the activity, every kid gets to showcase their puppet and maybe even give it a name! EasyPeasyAndFun.com has an array of other similar activities you might be interested in!
10. Story-time
Devise your own spooky stories or read them out from books – storytime is a great idea to keep kids entertained.
You can teach them new words they can add to their vocabulary as well as morals or something interesting about Halloween.
Another fun idea is to ask them to create their own unique stories and jot them down on paper.
Each of them can then read those aloud in class, turn by turn. You could also play a story game where each kid adds to the story that was started by a fellow student or class teacher.
This way, the kids can let their imagination flow and be ready with something before it is their turn to spook everyone out!
You could play pre-recorded stories and ask students questions later on, or you could even play a small video story for them. The possibilities are endless!
If you are that teacher that loves a good book, then you might want to check out some Halloween book suggestions listed on StoryTimeKatie.com.
What Supplies Are Needed for These Activities?
Since most of the activities are either science experiments or crafts, there will be a lot of things you will have to be prepared beforehand.
This is essential so that the day of the activity goes smoothly, and you and your kids can enjoy the class.
It is also a great idea to decide upon the materials you want your students to bring from home and the things you will provide to them in class.
The first and foremost thing you require is proper supplies.
This includes writing pencils, colored pencils, markers, crayons, scissors, glue, tape, paper, and maybe even cardboard. You will also require stickers, felt, foam, rubber, artificial flowers, beads, and maybe even small figures/figurines.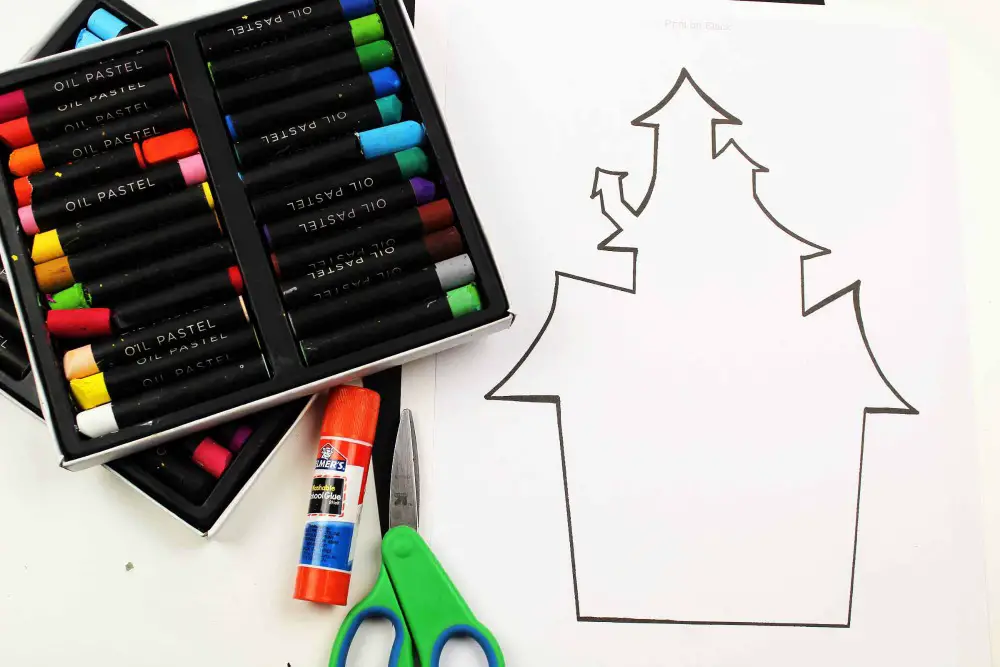 For particular crafts, you will need play dough, masking tape, baking soda, vinegar, dye, dishwashing liquid/soap, borax PVA glue, paint, tea bags, lighter, socks, tote bags, and maybe even needle/thread.
Lastly, you will require books, placards, worksheets, printouts, sound systems, or a projector for telling stories and completing worksheets.
You will require printouts for cut/pasting activities and may even require templates to trace out some basic Halloween-related shapes.
Conclusion
Halloween is already a fun and enjoyable time for kids. The purpose of introducing Halloween activities to kindergarten students is to make even school time exciting and lively.
You can choose from an array of science experiments or crafts to introduce to your kids.
Some of these activities can be a learning experience, while others can just be for fun. No matter what you pick or decide upon, we hope that this article helps you have a great Halloween with your kids in school!