Welcome to the jungle of learning! Today, we're going to take a walk on the wild side and explore 10 fun and interactive activities to help preschoolers learn about monkeys. 
From a footprint monkey craft to a pipe cleaner finger puppet, these activities are sure to be a hit with the little monkeys in your life. So grab your binoculars and let's get ready for some monkey business!
Great Preschool Monkey Crafts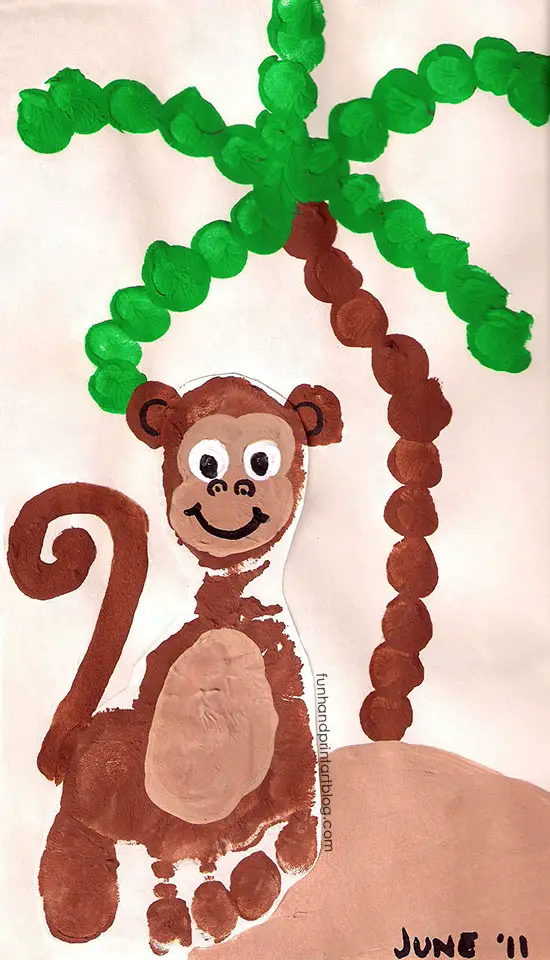 Introducing adorable Footprint Monkey Craft with a Fingerprint Palm Tree! This craft is easy and fun to make, but it's also perfect for jungle-themed nurseries or classrooms.
First, gather your supplies: 
Brown paint
Paintbrush
Construction paper
Googly eyes (optional), 
Wipes (for easy cleanup)
Next, have your little one step in some brown paint and make a footprint on a sheet of construction paper. This is the monkey's body!
Now, it's time to add some monkey features. Using the thumb, make thumbprint ears on each side of the heel. Then, paint on a tail. Let it dry. Once dry, use tan paint to make the monkey's tummy and face.
Make the eyes using white paint and fingerprints or googly eyes for the finishing touches. Finally, draw or paint on facial features to give your monkey some personality!
This craft is suitable for toddlers and older children, but it could be easily made with a baby's footprint. So, grab your paint and construction paper and let the monkey-making begin! And it's optional if you add a palm tree! Just make a fingerprint palm tree with green paint and give the monkey a place to live.
For more information about this resource, be sure to check out funhandprintartblog.com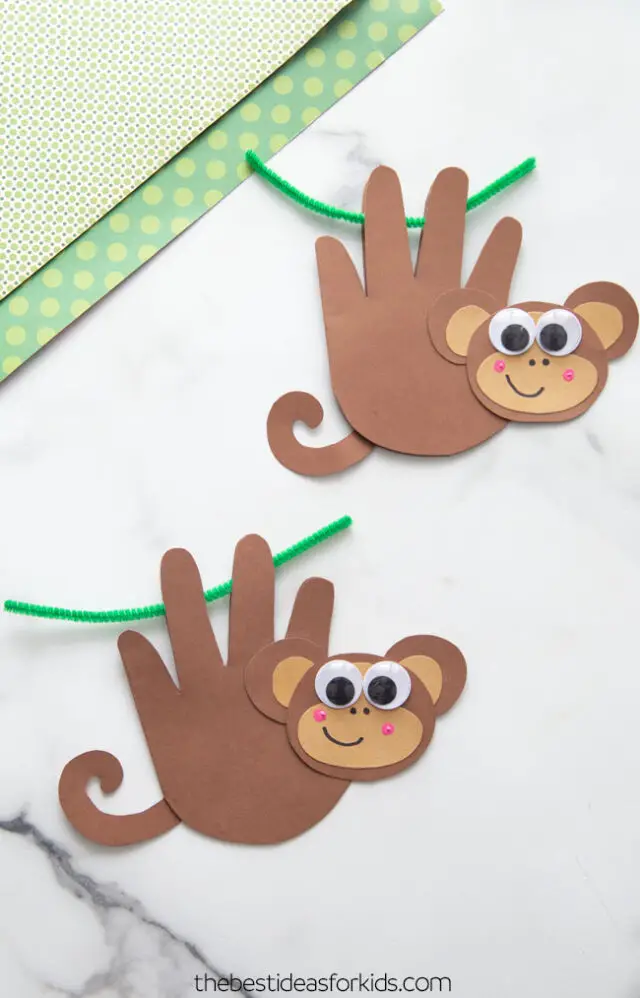 This next craft is perfect for kids to make and give to someone special on a holiday or just to say "I'm thinking of you." Here's what you'll need to get started:
Brown cardstock
Small googly eyes
Green pipe cleaner
Pink paint
Black marker
And if you don't have all the supplies, no worries! You can paint a handprint on white paper instead of cardstock and use white paper and a marker for the eyes instead of googly eyes. Plus, kids can draw or color on the pink cheeks if they don't want to use paint.
Once you've got your supplies, it's time to get crafting! Start by tracing a hand on a folded piece of brown cardstock and cutting it out. Open it up like a card. 
Next, trace and cut out a monkey head and ears from brown cardstock and cut out a face template from tan paper, then glue the face template onto the monkey head. 
Glue the monkey's ears onto the back of the monkey's head. Draw on a nose and mouth with a black marker, add pink paint dots for cheeks, and glue on googly eyes or cut out white paper eyes. 
Finally, glue the monkey head onto the thumb of the handprint, with the fingers facing up. Cut out and glue on a monkey tail to the back of the card. Inside the card, glue a green pipe cleaner onto the tips of the fingers.
Your finished card will be perfect to give on Father's Day, Mother's Day, a birthday, or even Valentine's Day! So, grab your cardstock, and let's get started!
For more information about this resource, be sure to check out thebestideasforkids.com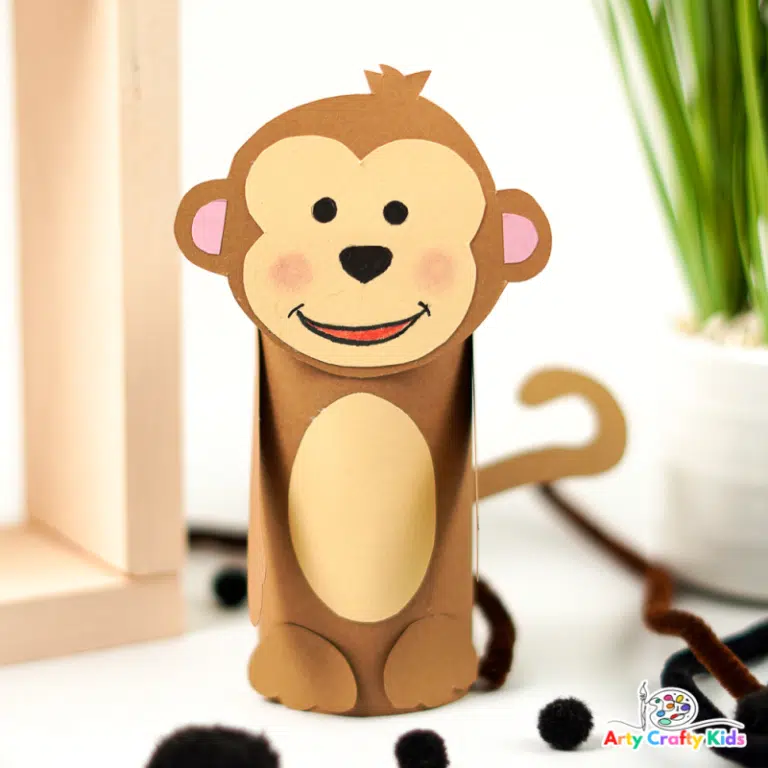 Our next craft is called Paper Roll Monkey, it is the perfect activity for preschoolers and young children to flex their fine motor skills and have a blast at the same time.
With a paper roll and a few basic supplies, your little ones can trace, cut, and stick to create their own monkey friend. And the fun doesn't end there, once they're finished, they'll have a new toy to play with! Here's the list of materials you'll need:
Paper roll
Brown, Beige, and Pink Paper
Pencil
Black Marker Pen
Red and Pink Marker Pens
Scissors
Glue Stick
So, gather your materials, and let's get crafting! First, cut out the monkey elements from the template, trace them onto brown and beige paper, and cut them out. 
Assemble the monkey's head by affixing the beige facial element and pink inner ear shapes. Draw a pair of eyes, a nose, and a big smiley mouth using a black marker. Then, select a paper roll from the recycling bin and wrap it in a strip of brown paper, securing the ends with glue. 
Finally, affix the monkey's head, arms, feet, and tail to the paper roll in the correct positions, and the paper roll monkey craft is complete. Your little ones will love making their monkey friend and you'll love seeing their creativity and fine motor skills in action!
For more information about this resource, be sure to check out artycraftykids.com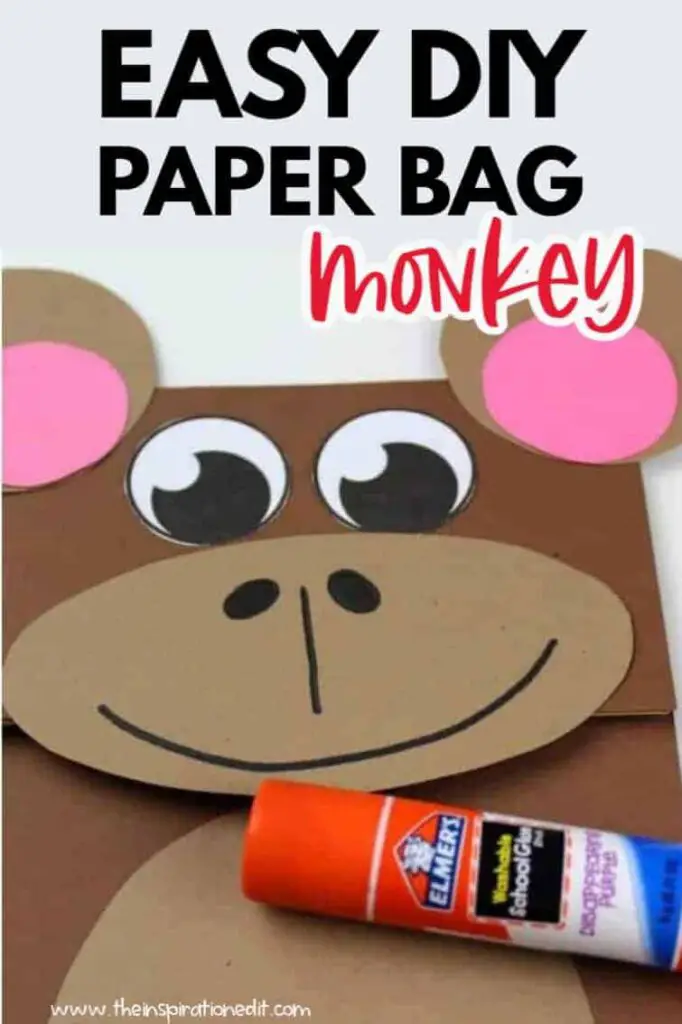 The paper bag monkey craft is a fun and easy project for parents and teachers. It's a great way to bond with your child or to add a creative activity to your lesson. All you need is:
Paper bag
Construction paper
Markers or crayons
Glue
Scissors
Cut out the ears, arms, legs, tail, and face from the construction paper. These will be the pieces we use to create the monkey's body. Once all the pieces are cut out, it's time to glue them onto the paper bag. Arrange the pieces on the bag to create the monkey's shape. 
The next step is to add details to the monkey's face. Use markers or crayons to draw eyes, a nose, and a mouth. You can also add any other details that you like. Let the glue dry completely before handling the monkey. 
This project is a great way to practice fine motor skills and creativity. It's also a great way to learn about the different parts of a monkey's body and to follow instructions. 
The end result is a unique monkey that your child will be proud of and will love to play with. Teachers can also use this project to add a creative activity to their lesson and keep their students engaged.
For more information about this resource, be sure to check out theinspirationedit.com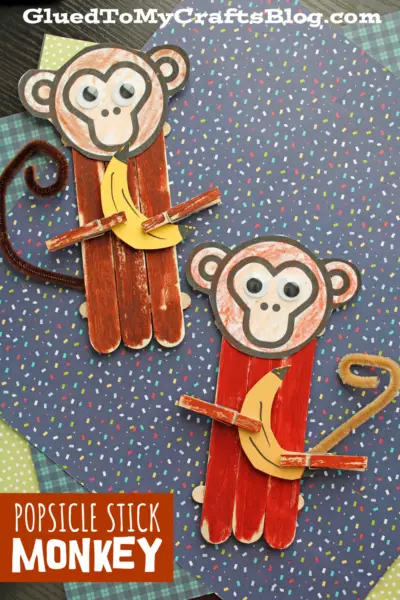 We've got the perfect next activity for you and your little ones – the Popsicle Stick Monkey Puppet Craft!
This craft is easy to follow and only requires a few simple supplies like:
Jumbo popsicle sticks
Mini popsicle sticks
Mini clothespins
Glue
Brown craft paint
Small paper plate
Large paintbrush
White cardstock paper
Here's the direction for your Popsicle Stick Monkey Puppet Craft. First, assemble the base of the monkey puppet by gluing together jumbo and mini popsicle sticks. 
Paint the base and clothespins brown and set them aside. Color in one of the monkey head designs from the printable, add wiggly eyes, and set it aside. 
Cut out a banana shape from yellow cardstock and color the tips black. Pinch the painted clothespins around the banana to create hands and glue them to the center of the popsicle stick base. 
Add the monkey head to the front and glue on a pipe cleaner tail.  Let dry completely before displaying. Your kids will love recreating this adorable monkey puppet and showing off their creations to friends and family. And the best part? Monkeys are always a hit with kids, so you know this craft is guaranteed to be a hit!
For more information about this resource, be sure to check out gluedtomycraftsblog.com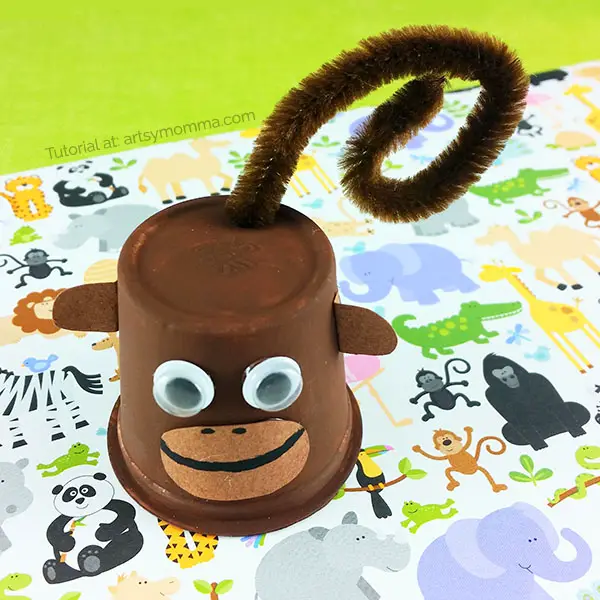 With this silly and fun craft, get ready to monkey around! All you need is:
Clean and dry K-cup 
Black and brown paint 
Brown pipe cleaner
Brown craft paper
Googly eyes
Glue gun 
Start by painting that K-cup a thick layer of brown paint with that paintbrush. Give it another coat after letting the first one dry to be careful.
Next, it's time to add some monkey features. Cut out some ears and an oval shape for the mouth out of the construction paper, and use the hot glue gun to attach them to the cup. 
Don't forget to add the googly eyes too, but make sure to attach them opposite to the existing hole at the cup's top. This is where the tail will go!
Finally, cut the brown pipe cleaner in half, curl the end to make it look like a tail, and insert it through the top hole. Ta-da! Your monkey k cup craft is complete! 
This is a great activity for kids, and you can use the cup to hold pens and pencils, or even as a planter. The possibilities are endless, just like the monkey business you'll have with this craft!
For more information about this resource, be sure to check out artsymomma.com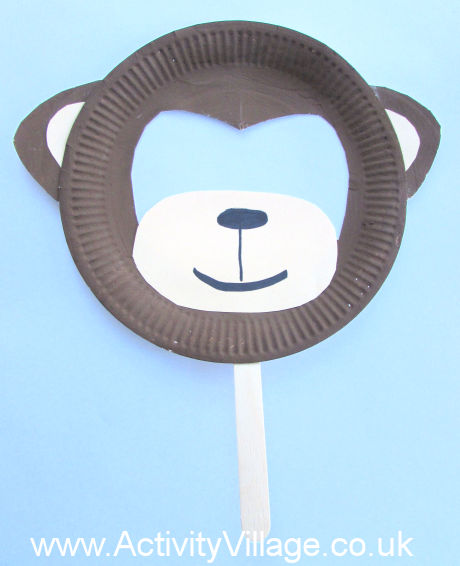 Get ready for some monkey business with this adorable paper plate monkey mask craft! As a parent or teacher, you'll love how easy this is for even the littlest of hands to make.
To begin, grab a paper plate and some brown paint, and give that plate a good coat of brown paint. While that's drying, you can prep the rest of the materials: 
Cream cardstock
Black marker pen
Glue
Wooden craft sticks
Sticky tape
Cut out a heart shape from the center of the plate once the paint is dry. Cut two semi-circles from the scrap card for the outer ear and two slightly smaller semi-circles from the cream card for the inner ear. Glue the cream card onto the brown semi-circles to make the ears and glue them to the back of the edge of the plate. 
Cut an oval shape from the cream card for the nose and draw a nose and mouth on it with a black marker pen, then stick it onto the face of the mask. Attach a wooden craft stick to the back of the mask using sticky tape, so kids can hold it up and become the monkey king or queen of the jungle!. 
This mask is perfect for a rainy-day activity, a themed birthday party, or a classroom activity. Have fun and let the monkey madness begin!
For more information about this resource, be sure to check out activityvillage.co.uk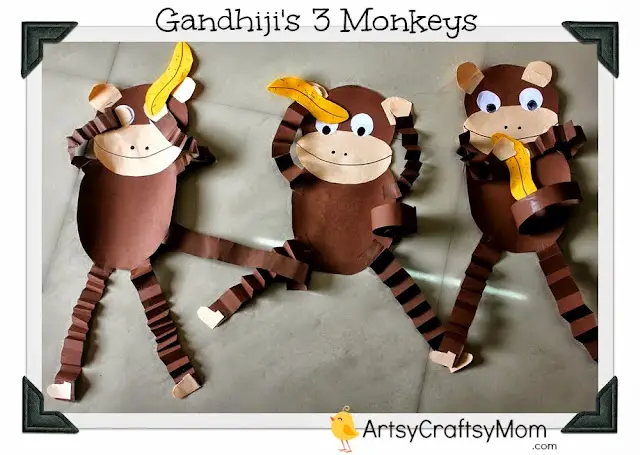 Introducing the Gandhi Jayanti Monkey Craft. This adorable craft is not only a fun activity for kids, but it also teaches them about the life and legacy of Mahatma Gandhi.
Here's how it works: First, grab some: 
Colorful construction paper
Scissors
Glue, and other craft materials 
Have your kids cut out the monkey you trace and decorate it with construction paper and other materials. They can use their imagination and creativity to make the monkey look as colorful and unique as they want.
Not only is this a fun and engaging activity, but it also serves as a great way to introduce children to the teachings and principles of Mahatma Gandhi. 
It's a perfect way to celebrate Gandhi Jayanti and learn about the importance of nonviolence, peace, and equality. So, gather the kids, and let's get crafting!
For more information about this resource, be sure to check out artsycraftsymom.com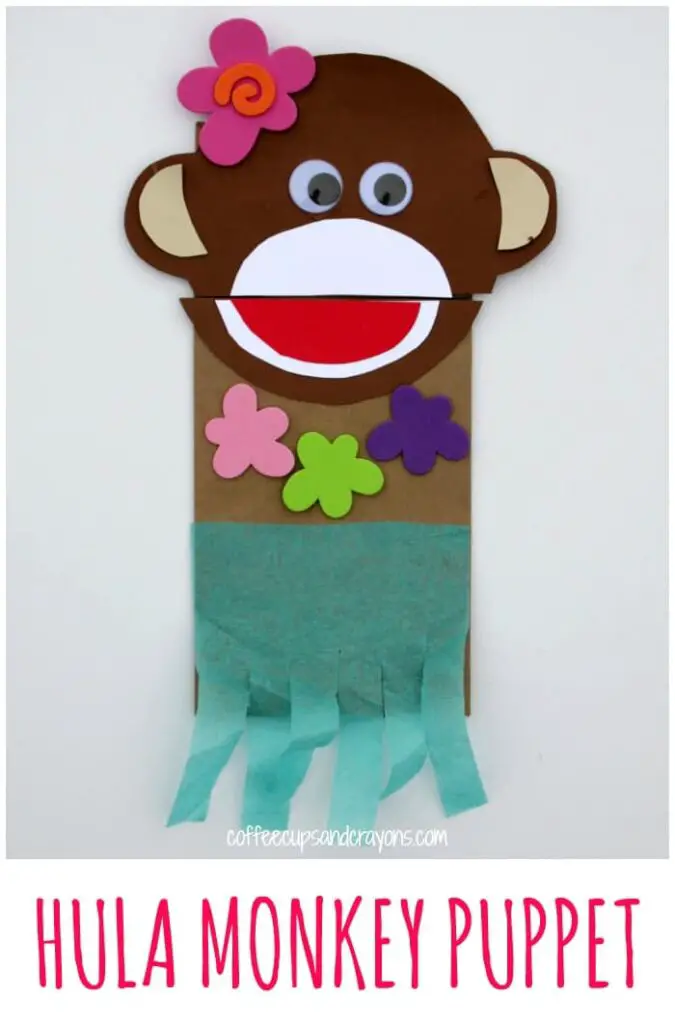 Get ready for some monkey business, kiddos! Make the most adorable hula monkey puppet you've ever seen. 
Materials you'll need:
Paper bag
Cardstock
Sock monkey template
Scissors
Foam flower stickers
Large googly eyes
Tissue paper
Glue
First, grab a paper bag and some colorful cardstock. Then, download and print out the sock monkey puppet from whatever template you choose. Cut out the shapes for the head, ears, muzzle, and mouth from the cardstock.
Now, let your creativity run wild! Use the head shape as a guide and draw the top of the monkey's head to give it a round shape. Next, trace the cutout pieces onto the cardstock and cut them out.
Now for the hula skirt! Take some tissue paper and cut it into rectangles the same width as the paper bag. Then, cut the bottom into strips for the hula skirt. Glue the pieces onto the paper bag.
Finally, add some finishing touches like foam flower stickers and big googly eyes. And that's it! Your very own hula monkey puppet is ready to play and dance the hula.
For more information about this resource, be sure to check out coffeecupsandcrayons.com

The fun never stops! With the last craft monkey finger puppet. Follow these simple steps to make your own monkey friend. First, gather your materials: 
Felt
Scissors
Glue
Brown pipe cleaners
Use half a pipe cleaner for each leg and arm, and one whole pipe cleaner for the body and tail. Bend the pipe cleaners as shown in the picture to create the monkey's shape. Assemble the pipe cleaners together to form the monkey's body. 
The coiled part of the pipe cleaner should fit around your finger to make it into a finger puppet. Glue the monkey face on top of the body and wait for it to dry. 
Once dry, the monkey finger puppet is ready to play with. You can make multiple monkeys to sing the song "Five monkeys jumping on the bed" and this method can be used to make other animals as well.
Once your monkey is all made, the possibilities are endless! Make your monkey sing and dance, or even put on a puppet show with friends. 
And don't stop at just a monkey, use your imagination and make all sorts of finger puppets like lions, elephants, and unicorns. So, gather your materials and start crafting, the monkey madness awaits!
For more information about this resource, be sure to check out teach-me-mommy.com
Conclusion
We hope you had as much fun reading about these crafts as we did finding them for you. Don't be afraid to get creative and monkey around with these ideas in your own classroom or home. 
Happy educating, and remember, monkeys aren't just for the jungle, they're for learning, too.